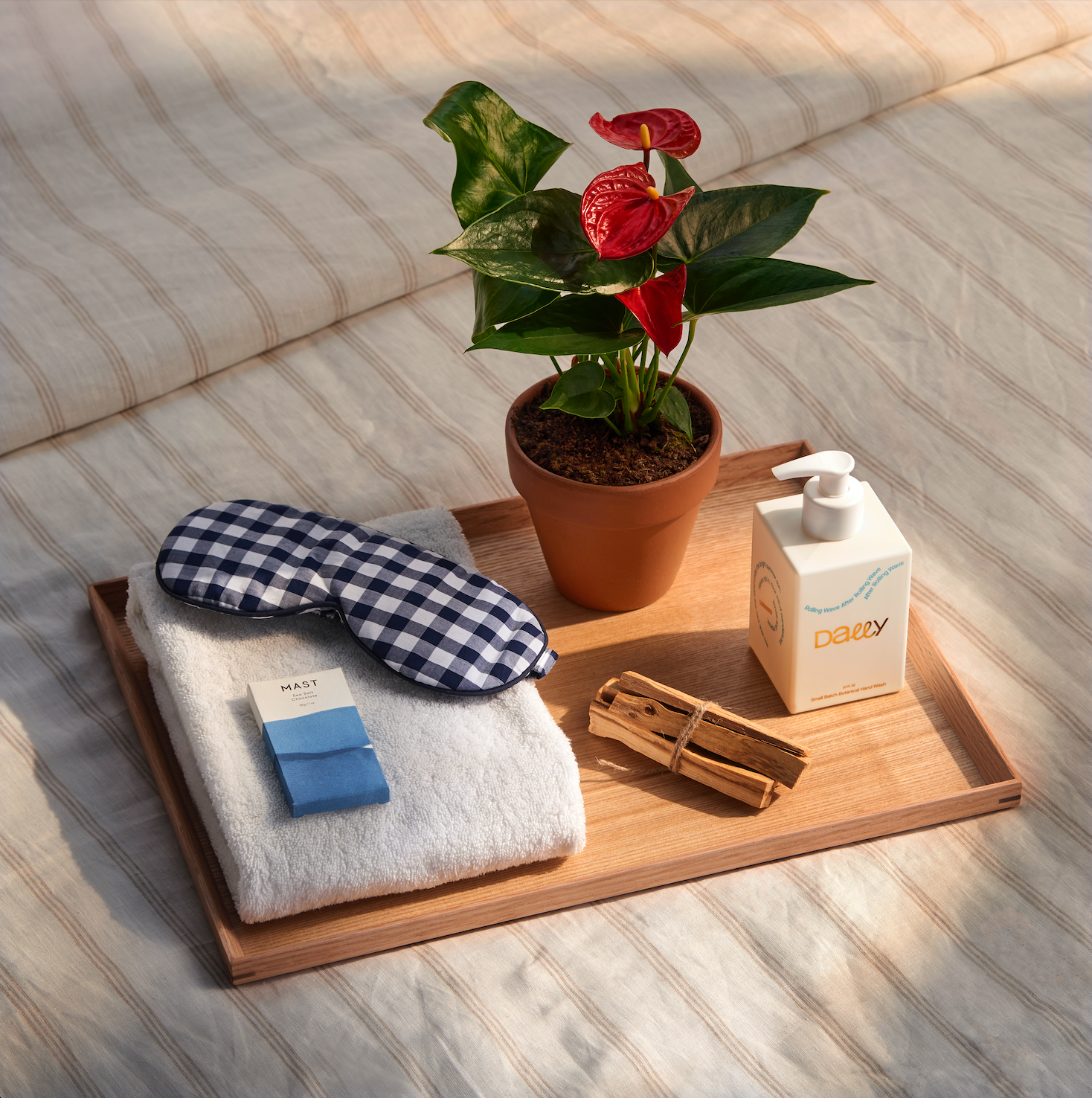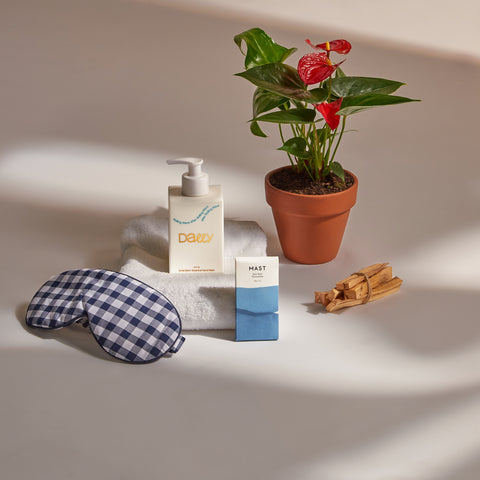 Turndown Service x Dally
With less travel these days we could all use a little more of our favorite relaxing places to slowly wash over us. So we decided to create our take on a luxury hotel turndown service so you can slow down wherever you are.

We handpicked a collection of goods that will ensure you feel the highest levels of comfort, and the lowest levels of speed. Each unique item helps elevate your space and your mood. 


We took our favorite sensory moments seared into our memory from stays at exceptional hotels and recreated them. And the best part, check-in time is any time you'd like. 
Here's to turning everything way down. 
Botanical hand wash with an infusion of peppermint, eucalyptus, lavender, coriander and rosemary deliver a hypnotic euphoric state with no end in sight.
Red Flamingo Anthurium (Anthurium scherzerianum). Olivia has beautiful red heart-shaped "flowers" which are morphed leaves called spathes. She's fairly low maintenance and her spathes are brightly colored to attract pollinators to the spadix (the flower spikes in the middle).
Crafted in Portugal with 100% premium combed cotton, Riley's Plush Hand Towel is the pinnacle of quality with a zero-twist construction making this towel plush, soft, and ultra-absorbent.
The padded Sleepy Masks from Sleepy Jones are designed to provide total-blackout protection from light for better rest. Soft batting and stretchy elastic strap ensure maximum comfort. Sleep on it. Imported. Color: Large Navy Gingham Care: 100% Cotton. Hand wash recommended.
72% Cocoa. Let us take you to the shores of Amagansett where Mast Brothers sea salt is harvested. Set your cares aside, kick off your shoes, and enjoy a timeless moment that is both salty and sweet. Ingredients: Organic Cocoa Beans, Organic Cane Sugar, Organic Cocoa, Butter, Organic Vanilla, Touch of Sea Salt.
Ethically wildcrafted Palo Santo sustainably-sourced from Peru in hand tied bundles of 5 sticks. The heartwood of Palo Santo is used in aromatherapy, meditation, energetic purification of space (a.k.a. smudging), preparing tea, and as an effective repellent for mosquitoes. The uplifting and pleasantly aromatic smoke enhances the vibration of any environment, facilitates creativity, and attracts positive energy.
Custom designed Bic Clic roller pen features an off white barrel combined with our signature colorways and gold accent detailing. Writes in black ink when you give it a good slow roll.
This notepad features our "Slow, Slower, Slowest & Associates" signature design on the top, anchored by our Dally mark along the bottom. The perfect size pad of paper for jotting down ideas, writing, doodling, and losing track of time. Size: 5"x7" Weight: 80lb text Leaves: 40 sheets